What:
Pavilion for the COP 15, the municipality of CPH.
Where:
Copenhagen.
When:
Finished 2009.
By:
Arcgency/MAPT.  Sponsored by: Philips. Barsmark. Cowi.
Photos:
Lars Engelgaar.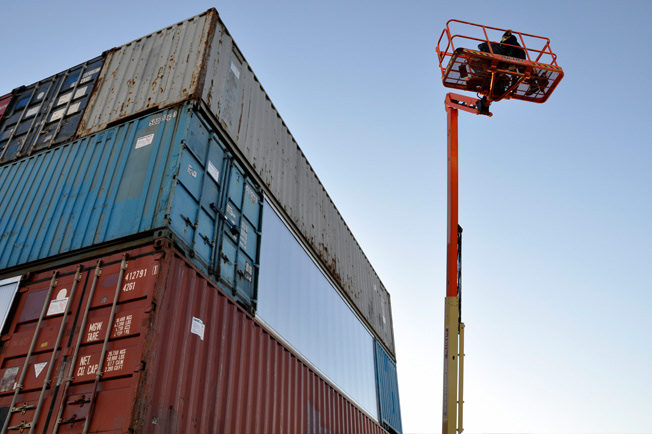 The overall goal for the City  of Copenhagen is to become an international, outstanding example of sustainable, urban development.  The same values form the basis for the framework of the North Harbour Exhibition. The sustainable container-pavilion has been developed by the architect's office Arcgency/MAPT in collaboration with the City of Copenhagen.

The project for the COP 15 was based on a cradle-to-cradle principle consigning the use-and-throw-out approach to the graveyard.  The idea is simple:  take a surplus product like an old, empty shipping container and give it some value again.  In this way you have a supremely sustainable solution which can quickly be made exclusive in spite of the materials' original use.

The Pavilion's containers can easily be reconverted to their life as a shipping container.  Their flexibility ensures that they can be split up and used separately.  The possibilities are endless.  In the future, it will be possible to build both houses and second homes where the principle of sustainability is incorporated from beginning to end.  After the exhibition for example, the City of Copenhagen will use two of the containers for cultural events or as venues for local meetings.